Today was a long day. I woke up at 8am, without an alarm, oddly enough, and got ready for a graduate presentation. I was pretty nervous because most of the other students are currently seeking their doctoral degree, but I felt my presentation went well. I discussed my undergraduate work with functional plant genomics, that is, describing the basic process involved in genetically modifying rice. I haven't yet planned my graduate research, but I have been making a list of ideas. I'm sure it will involve plants. My professor called me a geneticist today. I've been doing work in functional plant genomics for over two years now, but something about him calling me a geneticist brightened my day. I've known I wanted to be a geneticist since I was in middle school, and I only love it more every day.
Afterward I had my 3D Design course, which I also love, especially because my best friend June is also in the class. We're having a lot of fun with it and it's really improving my skills in graphic design. I already feel comfortable with the Maya interface, having already had several years experience working with the open-source Blender 3D. A couple weeks ago we were required to create an animation using just a ball and a cube. We had to use at least one particle effect and deformation effect. I decided to create metallic materials and blue fire. You can view the video below, along with a screenshot of the our latest and most difficult assignment, modeling a human hand. I was happy with the results.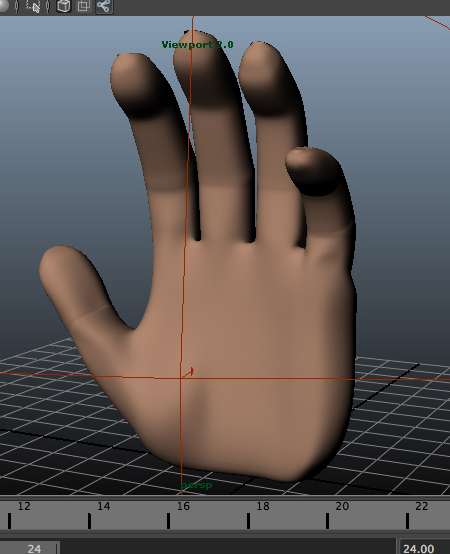 My Atropa belladonna plant is doing really well. It continues to produce flowers and it's now bearing about 10 small fruits. I will photograph them when they turn black upon maturity. Every part of the plant is toxic, but it has several medicinal properties. I used to use a belladonna infusion to get to sleep. It also has a permanent place in folklore, particularly witchcraft, rivaled only by mandrake. I intend to grow mandrake in the future. I like the challenge, but I really enjoy gardening and raising heirloom and novelty plants from seed.
Even though I got my degree in biology and continue that line of work now in my graduate career, I have received little to no instruction about horticulture. I've learned many technical skills in genomics and molecular biology, but little about the basics of raising plants, even in the lab. I have grown at home the two model plants, arabidopsis and brachypodium. At UMaine there is a significant divide between plant molecular biology / genomics and botany / horticulture / plant sciences, but I've been gardening my whole life, so it's something I learn from trial-and-error as a hobby. The plants I grow seldom disappoint me. I got some blue iris bulbs and chinese lantern seeds today. I'm just starting some Gloriosa superba seeds germinating and waiting for some Colchicum autumnale seeds to come in the mail.
These latter two plants both belong to the family Colchicaceae. Their family name is somewhat telling of an important aspect of these two species – they both produce a relatively high concentration of colchicine. This chemical is extremely toxic, but has been used in small concentrations to treat gout. More importantly, colchicine can interrupt meiosis. In plants, this can induce polyploidy, especially the doubling of chromosomes. Polyploidy can yield some interesting results. Because of its effects on spindle formation, colchicine is also useful in preparing microscope slides if you want to hault mitosis in order to view a specific phase. I have been researching protocols to extract a crude form of colchicine from Gloriosa superba and Colchicum autumnale. Colchicine is prohibitively expensive – 1 gram can easily cost over $100. In any case, both of the aforementioned plants are amazing and beautiful.
I also got a blue orchid today. It's artificially colored, but I thought it was pretty cool, so I got it. I don't know how they make it blue – I would be a little surprised if they absorb liquid coloring the way a carnation does. The orchids are sold by Silver Vase, a company based in Florida. A picture of my blue orchid is below. While on the point of blue flowers, Florigene and Suntory recently announced they will be selling their genetically altered true-blue roses in the United States this November. The image in the article isn't very blue, in my opinion. Florigene has better examples on their website. They also discuss some of the basic biochemistry behind flower color, which is really cool! I would love to work in this newly emerging field of floriculture. Perhaps someday I'll be making roses even bluer, although it's not quite as philanthropic as research focused on improving food crops.